Choose From a Variety of Entertaining Casino Games
---
We offer package suggestions of a variety of sizes that would best accommodate the type of event you are hosting and amount of guests expected. Our casino packages feature a mix of the most popular casino games and can be customized specifically to your needs. View Our Cleveland Casino Parties Photo Gallery
Craps
Craps is a dice game in which the players make wagers on the outcome of the roll, series of rolls or on a pair of dice.
Roulette
Players choose to place bets on either a single number or range of numbers, the colors red or black, or whether the number will be odd or even. To determine the winning number and color, the roulette ball is dropped onto the wheel as it spins, and the ball lands in a slot, determining the winning number and color.
Blackjack
The object of the game is to be dealt cards totaling as close to 21 without going over, while at the same time beating the total of the Dealer's cards. The Dealer must hit on 16 and under and stay on 17 and over.
Texas Hold' Em
A shared card poker game, each player is dealt two private cards and then five cards are dealt face up, which are shared (or "community") cards that can be used by anyone. The winner is the player who can make the best five-card poker hand from the seven cards available.
Let It Ride
A variation of Poker, Let It Ride combines large payoffs for small wagers with the drama of drawing cards to fill the Player's hands. The difference is that Players aren't playing against each other or the Dealer. All players have to do to win is to have a qualifying Poker hand (i.e. a pair of 10's or better).
Big 6 & Horse Wheels
The Wheels are classic, simple betting games ~ players bet on a number and the wheel is spun. Payoffs are made according to which spoke the wheel lands.
Genuine Slot Machines
Bring the flashing lights and unmistakable gaming sounds of authentic Slot machines to your event. Our Slots come complete with gaming tokens. We suggest giving raffle tickets to players that hit a jackpot, good for chances at prizes that you provide.
Blackjack Switch
Blackjack Switch is a variation of Blackjack that allows the Players to do what is normally considered a classic cheating maneuver – trading cards between two hands. To begin, Players must place 2 equal bets and are dealt 2 hands. Players are then permitted to switch the second cards dealt on each hand. The one main difference is that Blackjack pays even money.
Additional Games We Offer
---
Here are some great specialty games that can be incorporated into your casino package.
Triple Crown Horse Racing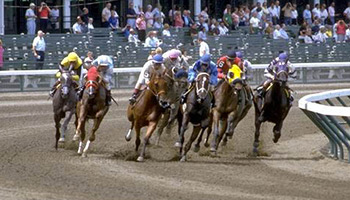 Our Triple Crown event creates all the thrills of a night at the races led by our animated race caller who encourages guests to place wagers with our personable betting tellers. Our expert race caller officiates live over each race, stirring up all the excitement of a real track. Everything is included: 10 horse races, a large viewing screen, DVD projection system, race caller, tellers if contracted, horse race forms, betting slips, and raffle tickets. You will need to provide prizes for the raffle to be held at the end of the event.
Cash Quiz
An interactive way to gamble with your mind! This fun table game challenges guests' trivia knowledge for cash winnings. Up to 6 guests can play at one time (individually or as teams), each manning their own wireless buzzer. Our friendly game host asks a trivia question ~ the first player or team to answer correctly will win a chip. The chips can be converted to raffle tickets at the conclusion of gaming, good for chances at prizes you provide. Cash Quiz includes a professional grade wireless buzzer system with a tower that lights up with the first and second fastest players to buzz in, as well as a mini sound system with microphone to help players hear the questions posed by our personable gaming host.
Casino Clash
Casino Clash is played with 2 to 4 opponents. Players are each given 10 chips at the start of the game and are asked multiple choice questions by our gaming host. For each question, Players can use chips to cover as many answers (A, B, C and/or D), depending on how confident they are in knowing the answer, and how many chips they have left. The catch is that the Players will lose all of the chips they use to cover any incorrect answer(s); AND if a Player doesn't have the correct answer covered with a chip they are automatically out of the game! The last Player to have chips left is the champion and will win 5 raffle tickets.
Wits & Wagers
Wits and Wagers brings the energy and excitement of Vegas to you. Not a trivia buff? It doesn't matter! Each player writes a guess to questions such as "In what year did the bikini swimsuit make its first appearance?" or "How many feet wide is an NFL football field?" and places it face-up on the table. Think you know the answer? Bet on your guess. Think you know who the experts are? Bet on their guess. The closest answer pays out according to the odds on the table. Wits and Wagers is a trivia game that lets you bet on anyone's answer. You can win it big by making educated guesses, by playing the odds or by knowing the interests of your friends.
Life Size Operation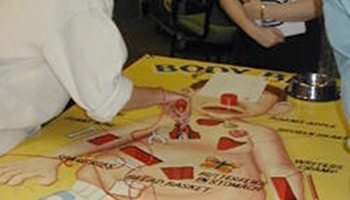 The popular board game is now available in life-size! Our Operation table includes oversize cards and tongs for retrieving "body parts" from the "patient."
Casino Plinko
Our large-size lighted Plinko game features several chances to win at the bottom of the board. Guests play a quick game of High/Low with a deck of cards, which allows them to win up to 3 Plinko chips to use on the board. Guests then drop their chip one by one through the maze, and they are paid out according to which slot their chip falls. The game board can be customized to feature specific prizes or amounts of play money and/or raffle tickets.
7 Parlor Games Package
Guests are entertained by a collection of classic parlor style games including Air Hockey, Pool Table, Dome Hockey, Ping Pong, Foosball, Basketball Pop Shot and Electronic Darts.
Sports Games Package
Including Tabletop Foosball, Classic Foosball, Electronic Putting Challenges and Classic Tailgate Toss
Want to Theme Your Casino Party?
---
With our Monte Carlo Night Packages, we offer a choice of two styles of gaming tables: our Classic Tabletop variety, and our Premium Customized tables that are freestanding and self-contained including table skirting and clay chips. Contact us today for more information.